Regular price
Sale price
$85.00 USD
Unit price
per
Sale
Sold out
FlexFire 4 Plus
Materials

- Stainless steel heat resistant titanium alloy

- High quality cotton bag

.
Dimensions

Assembled:

113 x 113 x 173 mm

Pack size and weight:

200 x 120 x 11 mm

683 g incl. pot holders and bag
Share
View full details
FlexFire 4 Plus
The FlexFire 4 Plus contains an additional to the FlexFire 4 grill plate and an additional front part for the BBQ operation.

The FlexFire 4 series falls into the category of medium-sized outdoor stoves and is therefore suitable for 1 to 4 people.

Unique Expansion and conversion options, quickly assembled, small stowed away, there is always room for FlexFire. FlexFire offers almost endless possibilities.

For individualistsand nature lovers, on a hike or while fishing at the lake enjoy a fresh, warm drink quickly and easily.

Barbecue outside in nature with the family, make stick bread or simply enjoy a great fire.< br/>
Also ideal for all outdoor athletes such as climbers, canoeists, cyclists, Bikers, hikers or bushcrafters and outdoor cooks. Easy for everyone who likes to be outdoors in nature.

The FlexFire 4 is a mobile, multifunctional outdoor stove of the quality "Made in Germany".

It is also great as a fire bowl for a cozy terrace evening with friends. Whether in a park or on the beach, at a festival or on the roof terrace, FlexFire can be part of many outdoor activities.< /p>
Light weight and pack size

The low weight and small pack sizeenable easy and pleasant transport.

Many possible applications

Instead of an environmentally harmful disposable grill, you should simply pack a FlexFirefor your next visit to a bathing lake or swimming pool.< /p>

Burns the fuel highly effectively 

The FlexFire works according to the so-called chimney principle and thus enables efficient and raw material-saving operation.

 Multifuel compatible

Due to the multifuel equipment, it can be fueled with wood, coal, bark, solid fuel, animal manure, < strong>alcohol or gel cooker.

 Multifuel compatible 

Use as a gas cooker/grill with the optional retaining plate for gas burners or convert to a wood pellet stove with the new pellet burner.

Barbecue

With the FlexFire 4 Plus it is possible to grill smaller food.
Technical data
Assembled: 113 x 113 x 173 mm
Pack size: 200 x 120 x 11 mm
Weight: 683 g including pot holders and bag
Functional packaging
A good product does not need glossy packaging! Therefore, our packaging is purely functional and we also avoid plastics, as well as environmentally harmful varnishes and paints.
Material
Compared to the competition, we use a high-quality, temperature-resistant and therefore low-distortion stainless steel-titanium alloy - Made in Germany - for our FlexFire series a. This is clearly recognizable by the structure in the material and can therefore be identified as a quality feature.

This makes it possible, among other things, to use a to be able to offer a robust product , which equates to a weight saving of 20% compared to 1.0 mm.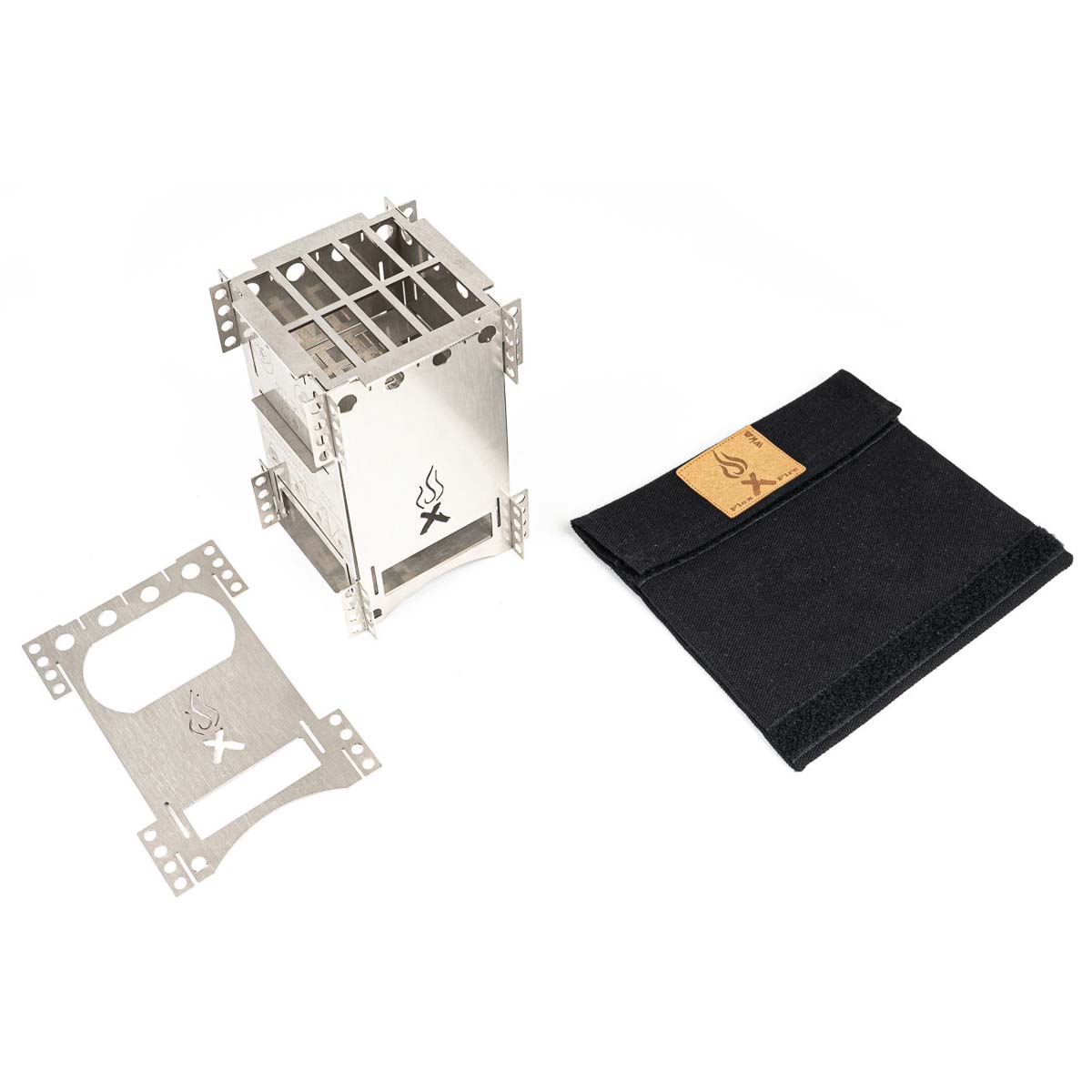 Scope of delivery
- 1 x front panel fire
- 1 x front panel grill
- 1 x rear panel
- 2 x side panel
- 1 x fire plate - FlexFire 4
- 1 x ash plate - FlexFire 4
- 1 x grill plate - FlexFire 4
- 1 x pot holder set
- 1 x bag - FlexFire