Regular price
Sale price
$66.00 USD
Unit price
per
Sale
Sold out
Hobo Stove FlexFire 4
Materials

- Stainless steel heat resistant titanium alloy

- High quality cotton bag

.
Dimensions

Assembled:

113 x 113 x 173 mm

Pack size and weight:

200 x 120 x 7 mm

518 g incl. pot holders and bag
Share
View full details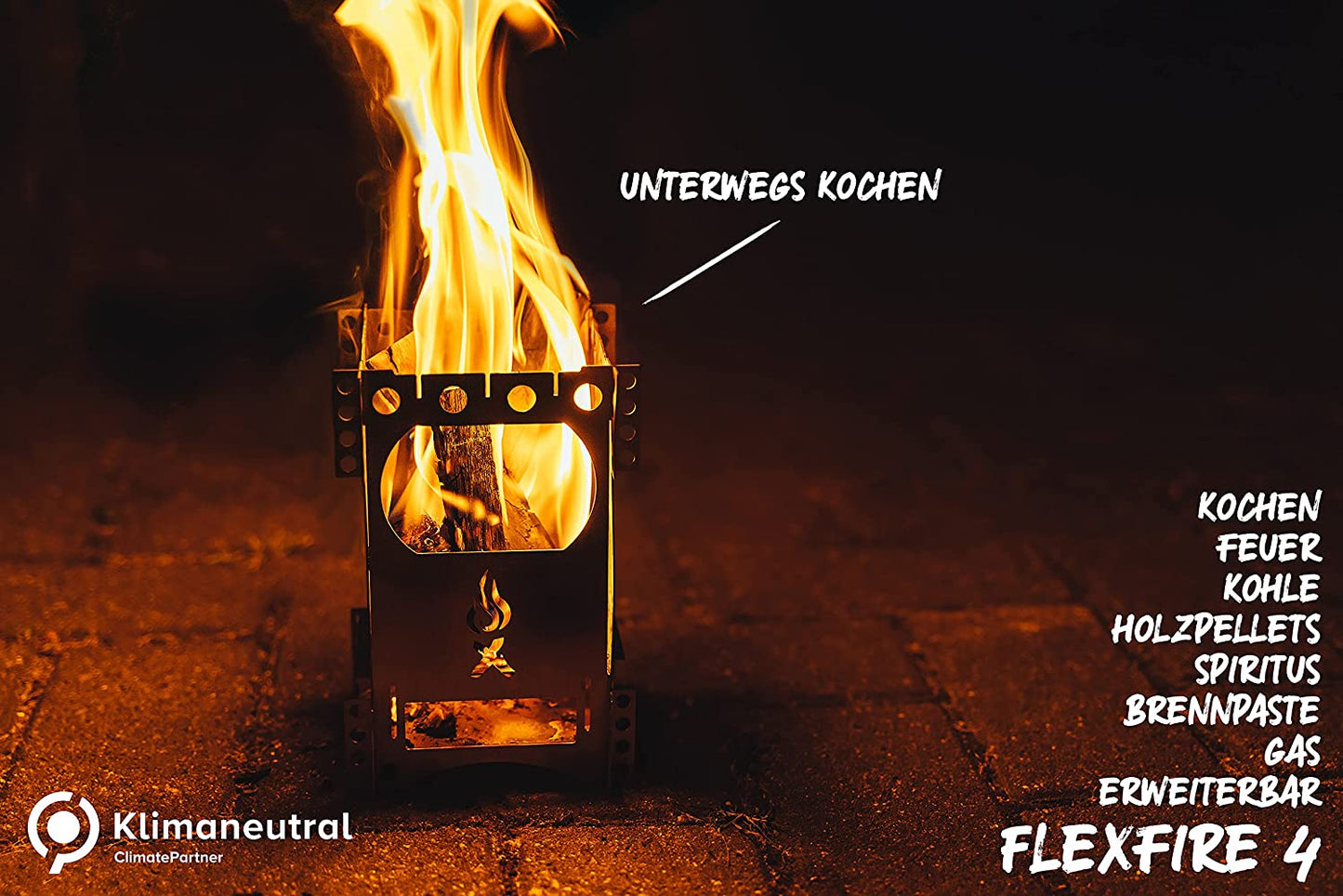 A hobo stove is the constant companion of anyone who likes to spend a long time in nature. It is used not only to cook very efficiently, but also to enjoy the atmosphere of a small campfire. A hobo stove is one of the "bushcraft essentials" of any outdoor enthusiast.
A hobo stove for every occasion
Cooking with wood

Making fire with wood and cooking on it is the classic way to use a Hobo. You can also enjoy a nice campfire. Since no fossil fuels are used, you are very environmentally friendly with wood.

.

As wood gasifier

With the optional pellet plate wood pellets can be burned or gasified very efficiently. Pellets are inexpensive and easy to transport. Once the fire burns properly with wood pellets, it does not smoke

.

Spirit burner as energy source

Alcohol burners can easily be used with the FlexFire 4. You either place the burner directly on the burner plate or put it in the Trangia Plate. Gas burners can also be easily combined with the FlexFire 4. Spirit and gas may be used in many places where fire is prohibited. Of course, this must also be found out beforehand.

Esbit and fuel paste as fuel

Esbit pieces are amazingly strong and suitable for cooking.

Burning paste is especially convenient indoors, as no toxic gases are produced. So a FlexFire 4 can be used in combination with fuel paste to keep food warm.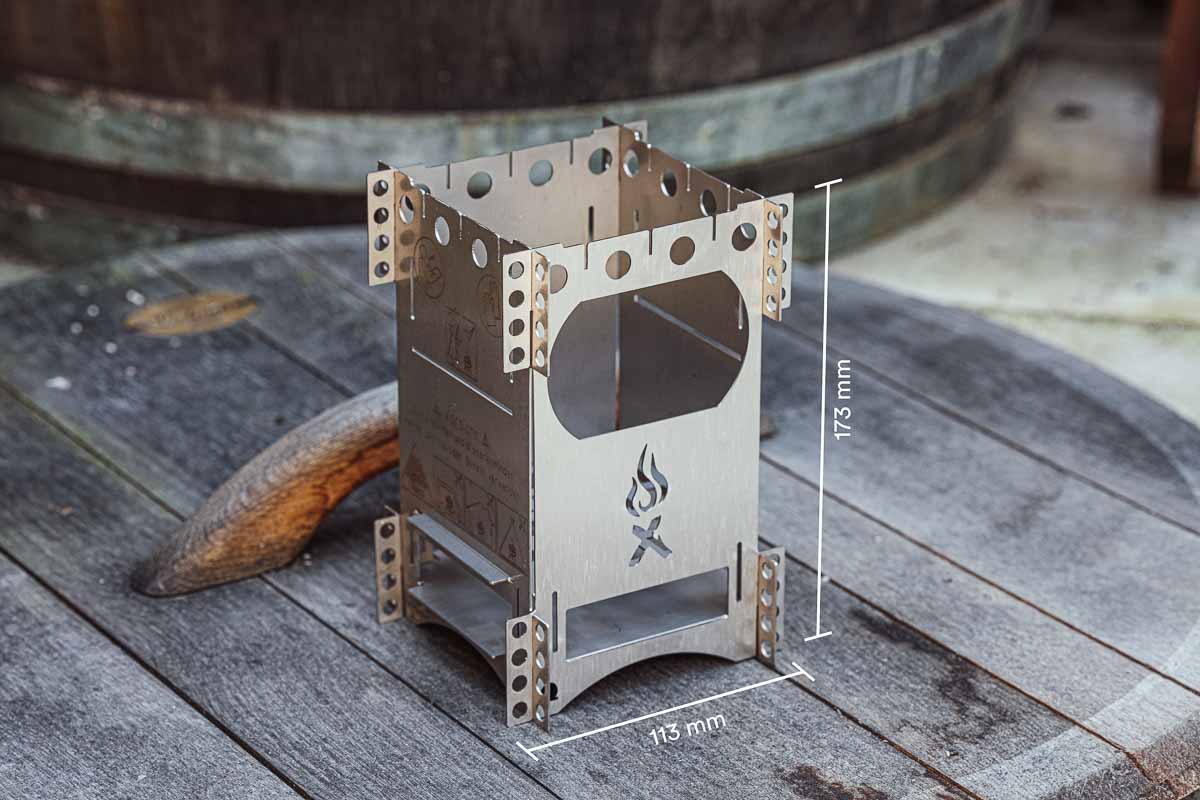 Specifications
Material of the FlexFire 4
The entire FlexFire series is made of a rustproof and heat-resistant stainless steel titanium alloy. This alloy is particularly low in distortion and can therefore withstand very high temperatures over a long period of time.
Dimensions FlexFire 4
structured: 113 x 113 x 173 mm
Pack size:200 x 120 x 7 minimum
Weight: 518 g incl. pot holders and bag
Scope of delivery
- 1 x front plate fire
- 1 x rear part
- 2 x side part
- 1 x fire plate - FlexFire 4
- 1 x ash plate - FlexFire 4
- 1 x pot holder set
- 1 x bag - FlexFire
Delivery without pot, fuel, gas burner or Trangia!
Advantages of the FlexFire 4 at a glance
Use as a campfire

Lightweight and small pack size

Stainless steel titanium

Ash plate for floor protection

Many fuels

Expandable

Usable everywhere

Simple assembly

High efficiency
Cotton outdoor bag
The FlexFire case is strong and durable. It can be washed and is not susceptible to dirt.

The bag can also be used for both the FlexFire 4 and the FlexFire 6.
Simply upgrade
The FlexFire series is designed so that you can easily switch between the variants. So it is possible to buy a FlexFire 4 first and upgrade to the FlexFire 6 later. In addition, once you have all the parts, you can decide which size you need for the next tour.

In addition to the variable size, additional parts also make it easier to use many other functions than with the basic parts. For example, there is a Trangia record.
Where does the word hobo stove come from?
The word originally refers to North American migrant workers. These often used empty food cans as stoves. The chimney effect allowed them to keep warm or cook well. With a hobo stove, the pot is heated much more effectively than with a conventional fire, because less heat is lost at the sides.
What makes a Hobo so special?
Effective due to chimney effect
Because of the chimney effect hobo stoves work so well. The air flows from below to the fire. It is drawn upward by the heat and the elongated design. This way, fresh air always gets to the fire and the wood burns very effectively without really smoking. It is also important that the openings on the sides are not too large. Otherwise, there will be strong turbulence, which will weaken the effect.
.
Langlebig und nachhaltig
Ein FlexFire 4 kann bei normaler Verwendung nicht kaputt gehen. Selbst wenn sich ein Teil verbiegen sollte, kann man es einfach selbst wieder gerade biegen.

Sollte dennoch ein Teil sehr stark beschädigt werden, kann es ohne Probleme ausgetauscht werden. Bis jetzt hat uns noch keine Anfrage zum Tausch eines Teils erreicht.
Questions about the FlexFire 4 Hobo
What is the best way to clean the FlexFire 4?

There are several ways to clean the FlexFire 4. The easiest is at home in the dishwasher. Of course, you can also wash the individual parts under water with a sponge and if necessary with a little dishwashing liquid.

.
Is discoloration normal?

Yes, discoloration occurs with the FlexFire compared to the new condition. At very high temperatures, the plates usually warp slightly. This does not affect the function.
Can I light a fire anywhere?

No, especially in summer should pay attention to local regulations and rules, as there is a risk of forest fires. Often cooking with a Trangia or gas burner is allowed or tolerated. However, there is no general rule.