Regular price
Sale price
$19.00 USD
Unit price
per
Sale
Sold out
✅ Robust, flexible and resistant to high temperatures of up to 1,150 °C for a short time and up to 900 °C permanently
✅ Finely woven from endless glass filament yarn, therefore no harmful effects (asbestos-free, of course!), 100% made in Germany
✅ Developed as a fire protection base for the FlexFire series, the FlexHold with alcohol burner or the LightFire
✅ Perfect for fire pits, wood burning stoves, spirit stoves, gas stoves, hot pots
✅ tested and certified by European fire protection test by MPA-Dresden according to DIN EN 13501-1, non-flammable, A2 - s1, d0
Share
View full details
When making fire in nature, you need to pay attention to the ground. So that the ground is better protected, we have developed a fire protection mat with which you can make fire without burning the ground. We are convinced of the FlexProtect fire mat, but you can still be responsible for your fire when using it.
Fire mat for on the go
Carpet pad for fire

With a FlexProtect fire mat you can easily make fire on many surfaces. Of course, the mat does not protect perfectly and you should always be careful. For example, with a FlexFire you can make fire perfectly on the mat. The small fire mat fits the FlexFire 4 and the large for the FlexFire 6.

.

Use with gas stove

When you cook with a gas burner, a lot of heat is generated around the stove. To protect the surrounding area, you should use a fire mat as a base.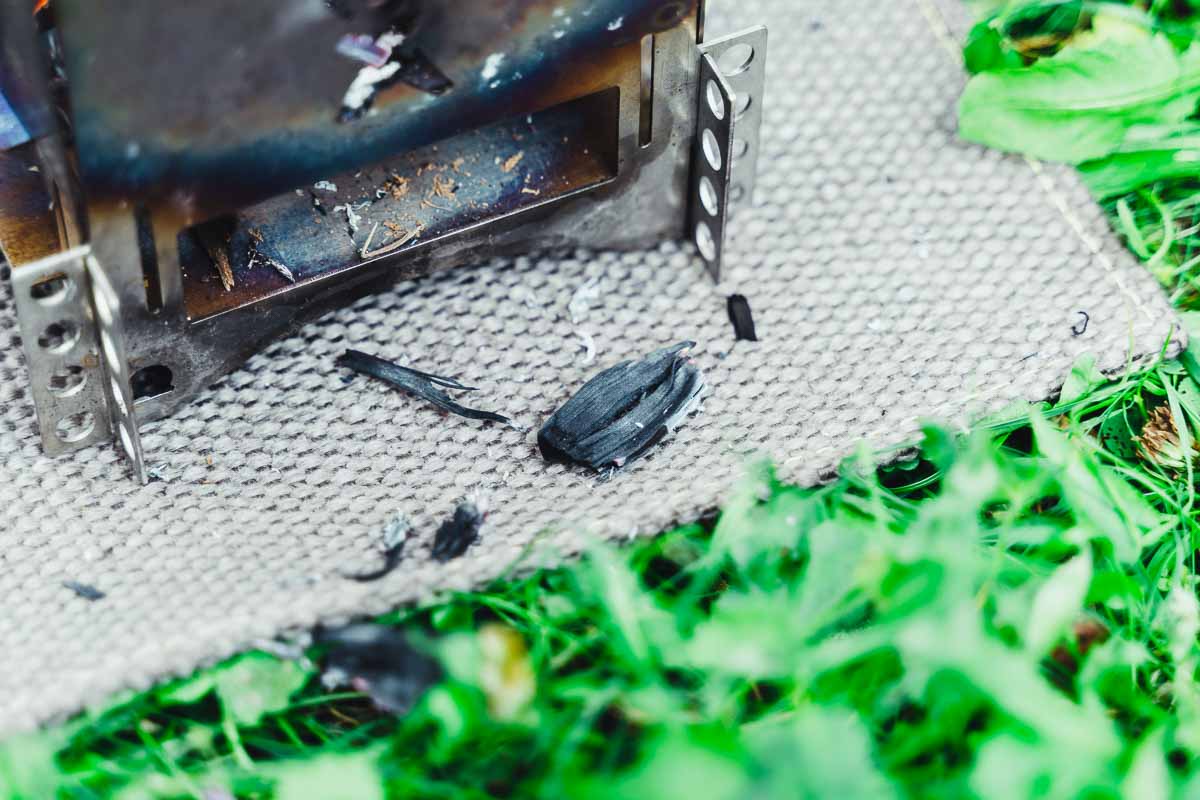 Protection from embers
The material of the FlexProtect fire mat withstands embers. So you can make fire more relaxed.
Cook safely with alcohol

If you cook with a spirit burner, it can happen, especially when filling, that spirit comes to the floor. With the FlexProtect carpet pad you can protect the floor.

.

Use on tables

Also the use of a gas stove on a table is possible. Of course, you should still be particularly careful here.

.
Transportation
For transportation, the fire mat should not be folded, but rolled up. If the mat is folded, it may cause damage to the fiberglass structure.
Specifications
large mat: 50 x 250 mm, weight: about 80g
small mat: 200 x 200 mm, weight: about 60g p>
Fireproof seams
The seams of the fire mat are fireproof and do not come loose. So you do not have to pay separate attention to them during operation. Nevertheless, the FlexFire or stove should be placed in the middle of the mat.
.
Questions about FlexProtect fire protection mat
What is the best way to clean the fire mat?

The best way to wipe the fire mat is with a damp cloth or sponge.
Is discoloration normal?

Yes it can come to discoloration. But these do not affect the function.
Can I light a fire anywhere?

No, especially in summer should pay attention to local regulations and rules, as there is a risk of forest fires. Often cooking with a Trangia or gas burner is allowed or tolerated. However, there is no general rule.