Regular price
$15.00 USD
Sale price
$10.00 USD
Unit price
per
Sale
Sold out
This fire starter lights the fire in any weather. The emergency lighter is an indispensable part of any EDC or survival kit.
The ignition steel with a handmade wooden handle comes with a multifunctional stainless steel scraper as well as a tinder box filled with kindling material, made of aluminum
The high quality fluorescent paracord cord can be used for many other applications and glows in the dark
Our Firestarter is just the thing for bushcraft and outdoor enthusiasts, perfectly equipped for barbecues, emergency situations and camping adventures
The firestarter can be used to start a fire in a matter of seconds. For use with tinder such as pine chip, birch bark or even absorbent cotton. The large and hot sparks allow a quick ignition
Materials

- Magnesium

- Wooden handle

- Paracord cord

- Aluminum tinder box

- Cotton tinder
Dimensions

Length: 120 mm

Weight: 70 grams
Share
View full details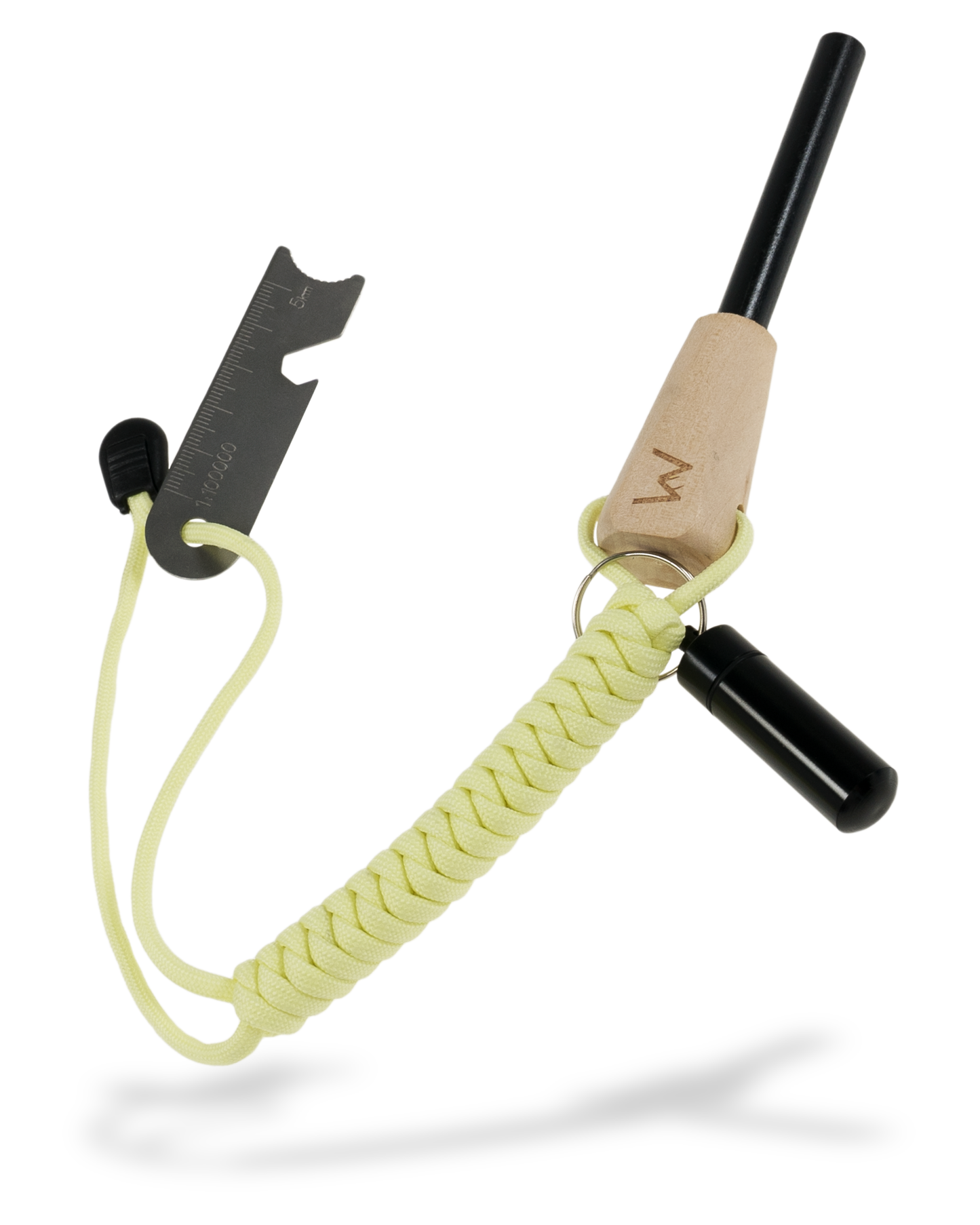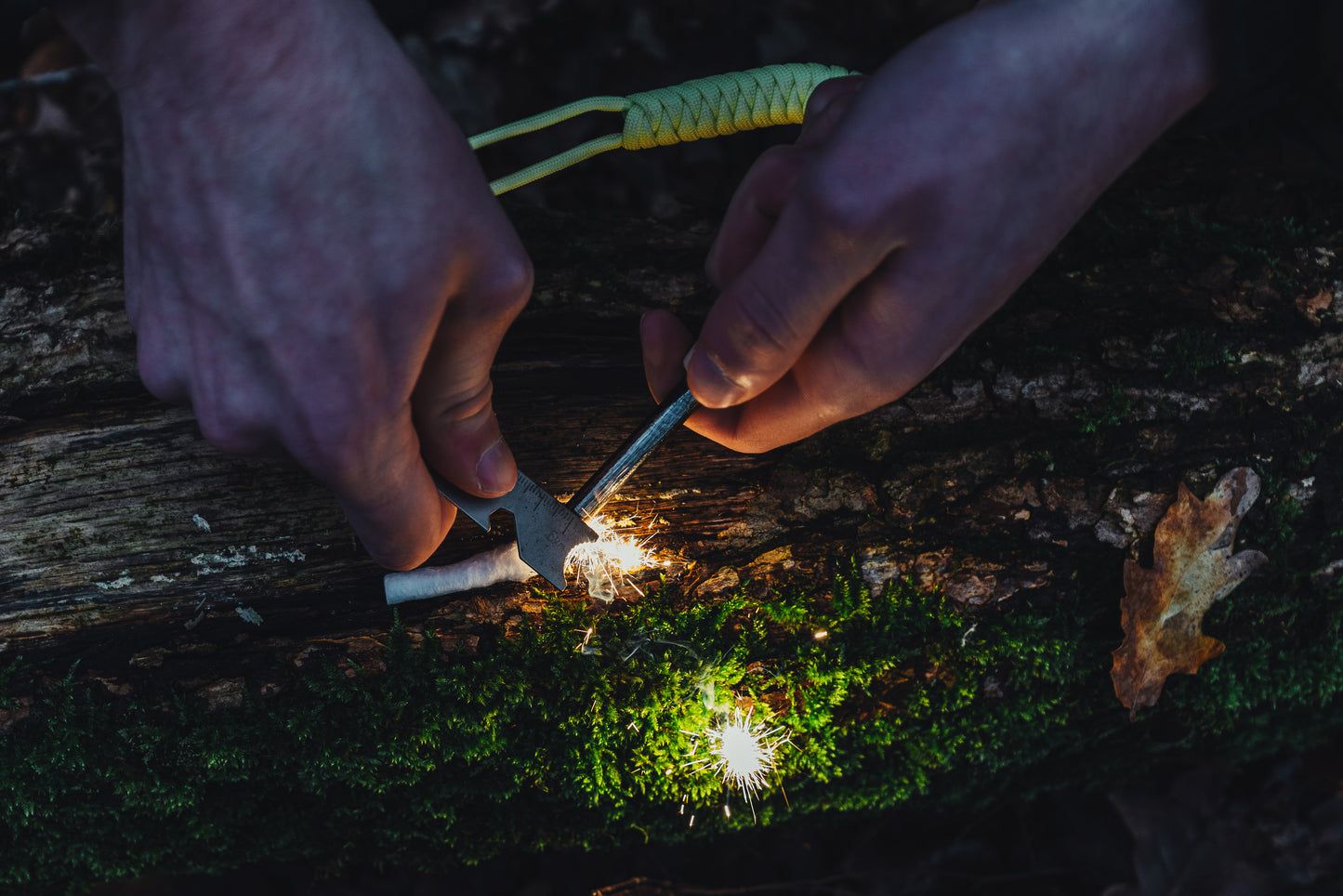 Fire starter features
Flurescent ribbon

The paracord band on the firestarter is made of a flurescent material. This means that this glows in the dark. Optimal when camping and camping when looking for the fire steel. The tape has a total length of about 1.5 m and is so suitable for many other applications.

.

Waterproof tinder box

In this tinder box sealed by an O-ring can easily store some tinder. You never forget tinder again! So you can - even when wet - start a fire. The tinder box is made of aluminum and thus very stable.

Effective sparking

With the special scraper sparks can be struck much better than with conventional fire starters. Not only is it easier, but also the sparks are larger. So a fire is quickly ignited.

Durable

High quality materials make the fire steel durable and optimal for outdoor use. The magnesium rod lasts for about 3,000 ignitions.

Cotton tinder

In the tinder box is supplied a cotton tinder. This allows you to quickly make embers and light a fire with wood.

High quality scraper

The scraper of this fire steel is made of high quality stainless steel and thus very stable and durable. It serves as a spark scraper, but can also be used as a ruler, map scale, bottle opener or chip plane.
Fire starter specificationsFire starter specifications
The handle of the fire steel is 50 mm and the magnesium rod is 70 mm long and has a diameter of 8 mm. The weight of the fire starter including scraper, paracord strap and tinder box is 70 g.
Size and weight
The dimensions of the stainless steel scraper are 75 mm x 20 mm.
FAQ fire steel
What is a fire steel? How does a fire steel work?

A firesteel is a tool used to start a fire. A fire starter consists of magnesium with which sparks can be struck. Lighting works best like this:
1. Scrape off some of the magnesium above the scale with light, gentle movements.
2. Ignite the magnesium filings with a stronger blow.
3. Use the burning tinder to burn more materials.
Why use a fire steel?

Unlike a lighter or matches, a fire starter is not susceptible to wetness or wind. It is also much easier to light a gas or spirit burner from a safe distance.
How long does a fire starter last?

A lighter will last several years if used once a day. Significantly longer than a lighter or a pack of matches.