Regular price
Sale price
$9.00 USD
Unit price
per
Sale
Sold out
✅ The whistle serves as a signal whistle in emergency situations, as a dog whistle or spontaneously during sports.
✅ With the sharp scraper, it is very easy to quickly open packages and in the wild it can even be used as a knife in a variety of ways.
✅ The fire steel in connection with the scraper lets the sparks fly. Scratch off some of the paint first.
✅ The parachute cord is a true all-rounder, you can use it for many things. This bracelet consists of an approx. three meter long cord in one piece. The load capacity is almost 160 kg.
✅ Simple and suitable for almost every occasion. Optionally in black or dark blue
Materials

- Paracord

- Stainless steel

- Plastic
Dimensions

Umfang: 22 cm, schwarze Version verstellbar: 22-30cm

Gewicht: 28 Gramm
Share
View full details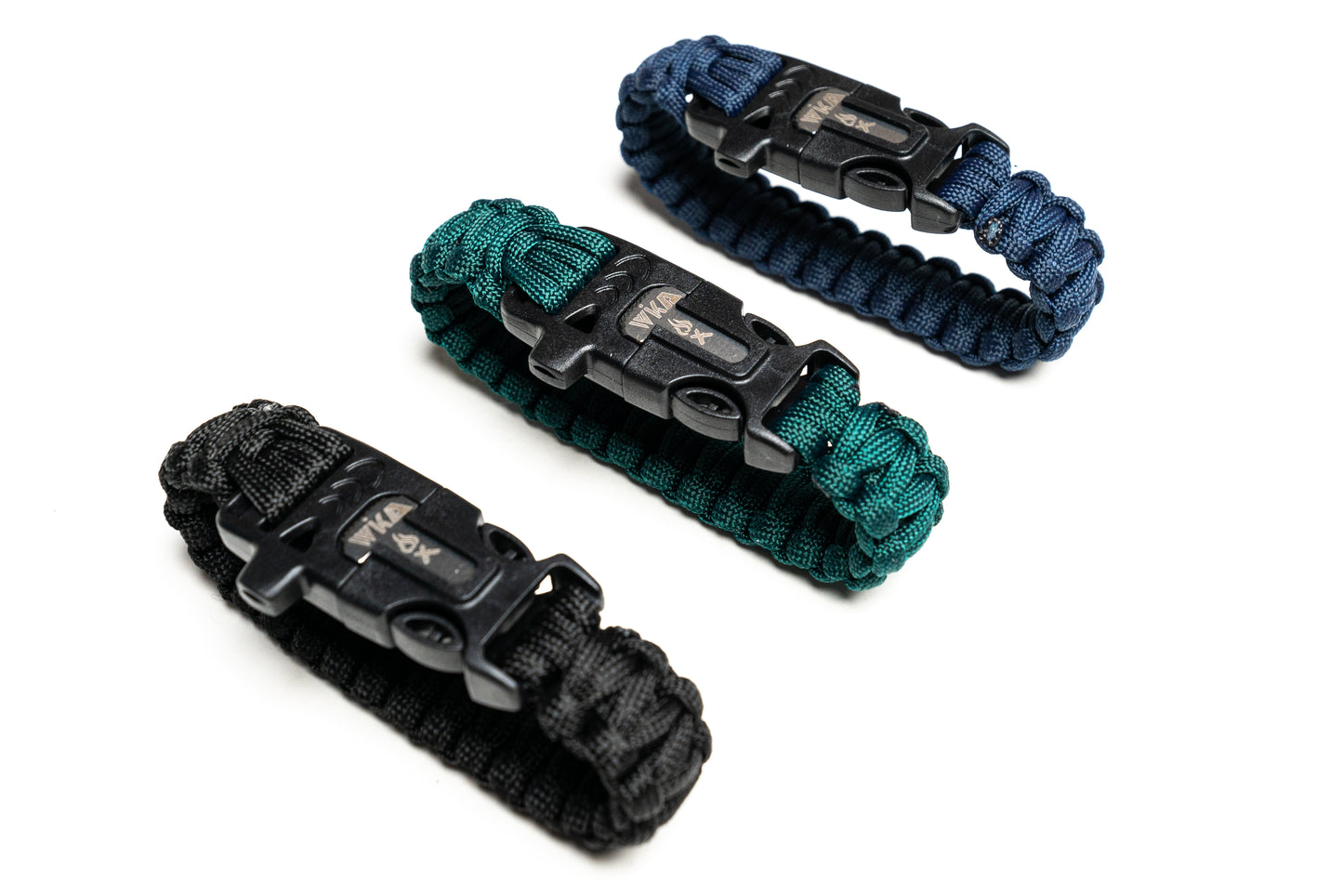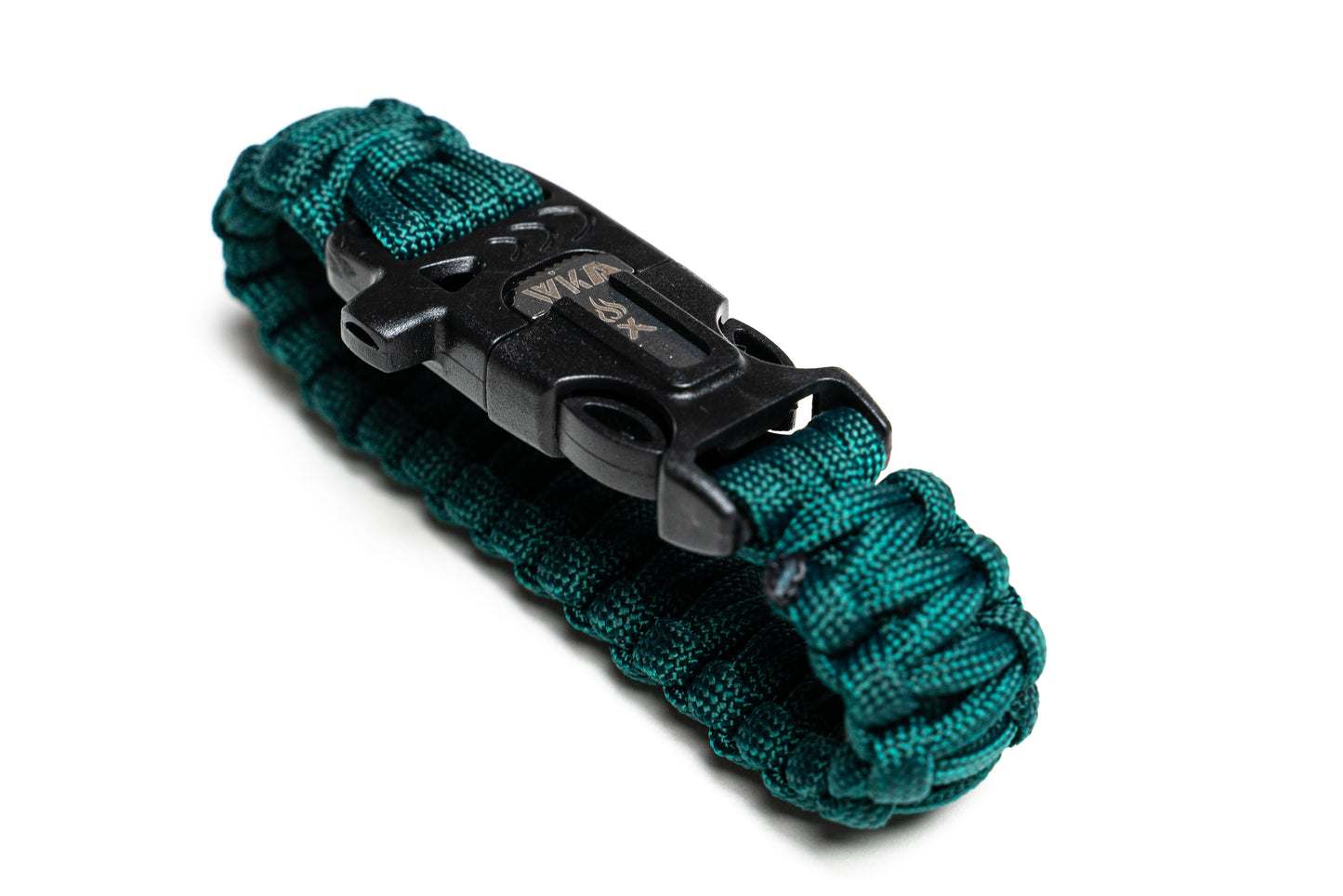 A survival bracelet is a small practical companion when you are out in nature for a longer time. Whether to make a fire or to give a signal: the survival bracelet from Wikatech is at your side!
Survival bracelet functions
Loud whistle

In the closure of the bracelet is a whistle integrated. This whistle lets whistle different run - depending on how the hole is held shut. This is explained in the video below. You can use the whistle as a dog whistle or also to draw attention to yourself in dangerous situations.

.

Small knife and scraper

With the small knife can be sawed through ropes and cords. For cutting food, the scraper is rather unsuitable. If necessary, packages or other packaging can be easily opened.

.

Magnesium fire steel

The small magnesium fire steel can be used with the help of the scraper to strike sparks. For this purpose, the paint must first be scraped off a little. The fire starter also works when wet. During use, the cap is also always scraped a little. This is normal and does not affect the functions.

Paracord

The paracord cord - in German parachute cord - is a true all-rounder and can be used for many things. The bracelet can be tied to a cord about three meters long if necessary. The load capacity of the rope is about 160 kilograms.

.
Specifications outdoor bracelet
The survival bracelet is 28 grams light and is hardly noticed when wearing it.

With a circumference of 22 cm, it is suitable for rather large wrists strong>with a circumference of 18 to 20 cmperfectly suited.

There are three colors of paracord to choose from: black, green and dark blue.
Paracord in use
Attach equipment

With the paracord strap you can easily attach equipment to the backpack. Here, for example, a knife is tied to a hiking backpack.

.

Replacement shoelaces

If a shoelace breaks during a hike, this can lead to termination. Use the paracord lace as a shoelace replacement and finish the tour safely. The cord is enough for two shoes.

Emergency shelter

The paracord can be used to tie off tarps and tents when it is very stormy. It can also help in the construction of an emergency shelter.

Trap construction

Many traps work with ropes or strings. Many different variants can be found on YouTube.

Fishing line

The bracelet can be completely disassembled. Inside are smaller cords that reach a total length of about 20 meters. From these strings you can knot an improvised fishing line.

.

First aid

In some cases, first aid requires a rope or cord. For example, you can build an arm loop out of the bracelet.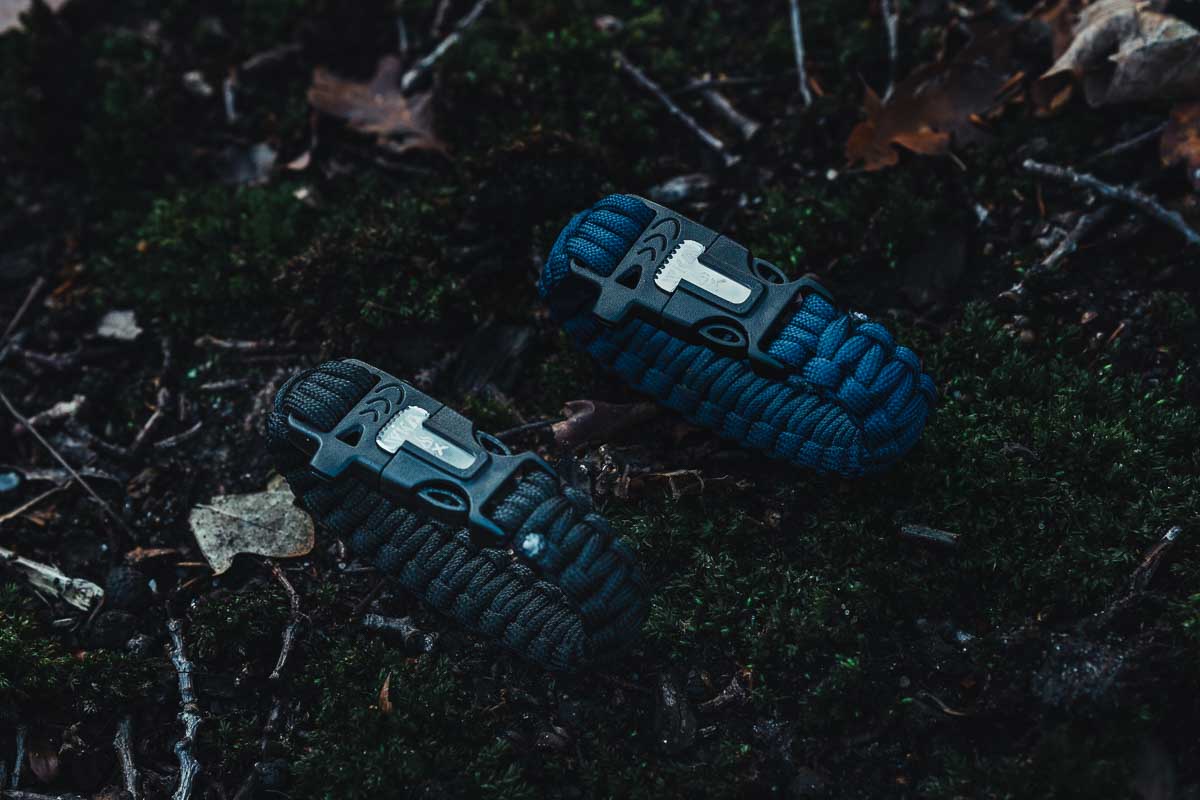 Gift for outdoor fans
A Survial bracelet is a nice little gift for anyone who considers themselves an outdoor enthusiast. It is practical, highly qualtative and inexpensive. The bracelet is especially suitable for those who are just starting bushcraft.
.
Paracord survival bracelet questions
Is the survival bracelet suitable for children?

This bracelet is rather unsuitable for children, because it is quite large and therefore slips off the wrist with children's hands.
Can the paracord cord be detached in one piece?

Yes, you will receive a 3 meter long piece of paracord when unwinding the bracelet. It is important to ensure that the bracelet is loosened at the desolate area. Then simply undo the knots.
Can is knot the bracelet again from the 3 meter paracord cord?

Yes, theoretically it is possible. If the original paracord strap is damaged in use, the buckles can be reused with other paracord cords. Possible techniques can be found on YouTube.